Industry Profiles
High-performance customized training for new and existing companies.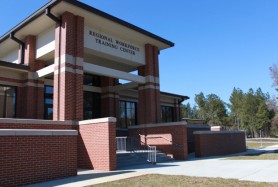 Southwest Mississippi Community College - Regional Workforce Training Center
Take a workforce with a ready-to-work attitude, add in state-of-the art, customized training, then open the doors to a $6 million Regional Workforce Training Center at Southwest Mississippi Community College, and you've got all the necessary components for the kind of pace-setting performance a global market demands.
Pike County is providing state-of-the-art training for the oil and gas industry such as well construction, crane training, sonic drilling and the mixing/handling of drilling fluids. Industry works closely with the Regional Workforce Training Center in the development of new training programs as well as many ongoing needs such as forklift certification, welding, safety and office skills. Click here for a more complete list of training available.
Assistance to industry can be provided several different ways:
Job Fairs help to identify available employees with the right skills.
Pre-Employment customized training is provided to applicants before they are hired. This training is to prepare trainees for immediate placement in new jobs.
Post-Employment Customized on-the-job Training (COTJ) programs are conducted after employees have been hired. This training provides job specific training.
Retraining and Upgrade customized retraining is developed for existing company employees to meet changing skill requirements due to new technology. Upgrade training consists of training designed to assist employees in advancing from one job level to another.
And through Mississippi's innovative Workforce Enhancement Fund, Pike County's collaborative and customized training is available at low or no cost to employers. Management training at nearby University of Southern Mississippi keeps top-tier employees sharp and in the know. In a fast-paced global marketplace, your Pike County workforce stays up to speed to keep your company ahead of the game.